Native Editing
For smaller productions with a minimal crew and tight budget, the Native camera footage workflow is an established practice. This is however, dependent on the cameras the project will use.
Working with some small form professional cameras such as the SONY Z150 or Canon C300, means that the high quality, low data rate HD codecs, such as the XAVC and XDCamHD family, can be used within Media Composer in their native format. This allows Productions to shoot, store and edit with the original acquired cameras images with 'off the shelf' editing systems.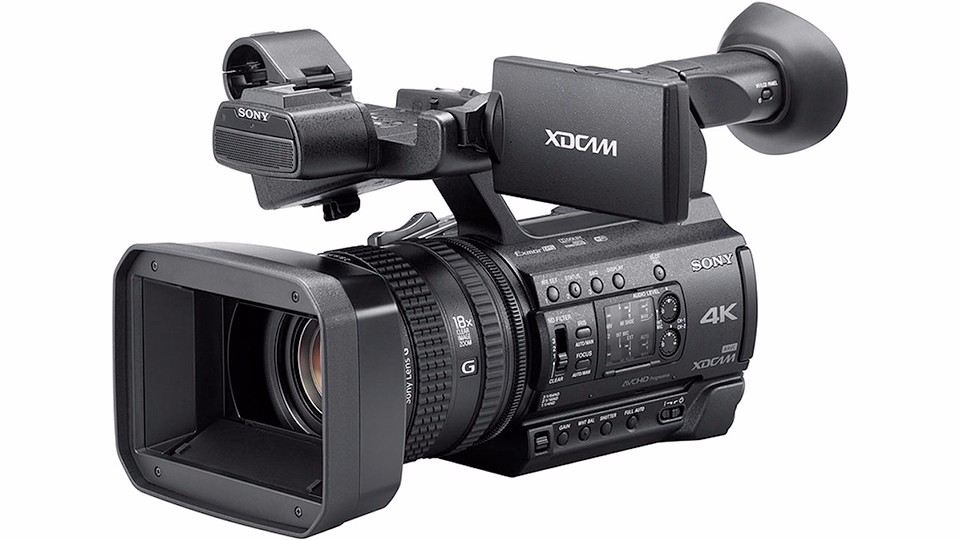 SONY Z150 offers HD and 4K capture
Once the edit has been completed, in a traditional Offline creative edit manner, an Online process will still be required, as the finished edit still needs to meet the technical delivery specifications defined within the delivery standard for the production. This can be performed in 1 of 2 ways.
The Project and drive is given to an external facility who will Online and Grade the Delivery Master.
The Offline editors' seat is simply 'turned over' to the Online editor so that the program can be reworked to meet the technical specifications of the delivery. These specifications expend into both Picture and Audio.
In either case no Online conform is required.
The key points of a Native workflow can be thought of as:
Acquisition
Rushes Management
Offline editing process with native media format and Online
Delivery

Simple Native material workflow.
The Process
When planning to work with a cameras rushes native format, it's important to check that the codec is supported by the version of Media Composer you intend to use.
INFO: Sticking with HD formats, the most widely accepted and used native codecs in Media Composer are currently Panasonic AVC-I and AVC-L, SONY XDCamEX 35, XDCamHD 50Mbs and XAVC 100Mbs codecs.
This means that you will need to establish the camera model as well as the intended Online codec to be used for delivery. You will then need to investigate the AMA plugin that is also needed by your workstation to allow it to read the camera rushes and allow it to be 'consolidated' to your editing storage. More on this in the AMA section later in the course.
Where low resolution material is created for the Offline - Online workflow via a transcode process, the Native workflow is similar by using the AMA 'linked to' option and then 'Consolidating' the rushes, in their entirety, onto your Avid storage. This process takes the material and converts it into the right file type to use within Media Composer without touching the image quality at all. This requires little CPU power and so is far quicker than creating new media using the 'transcoding' process.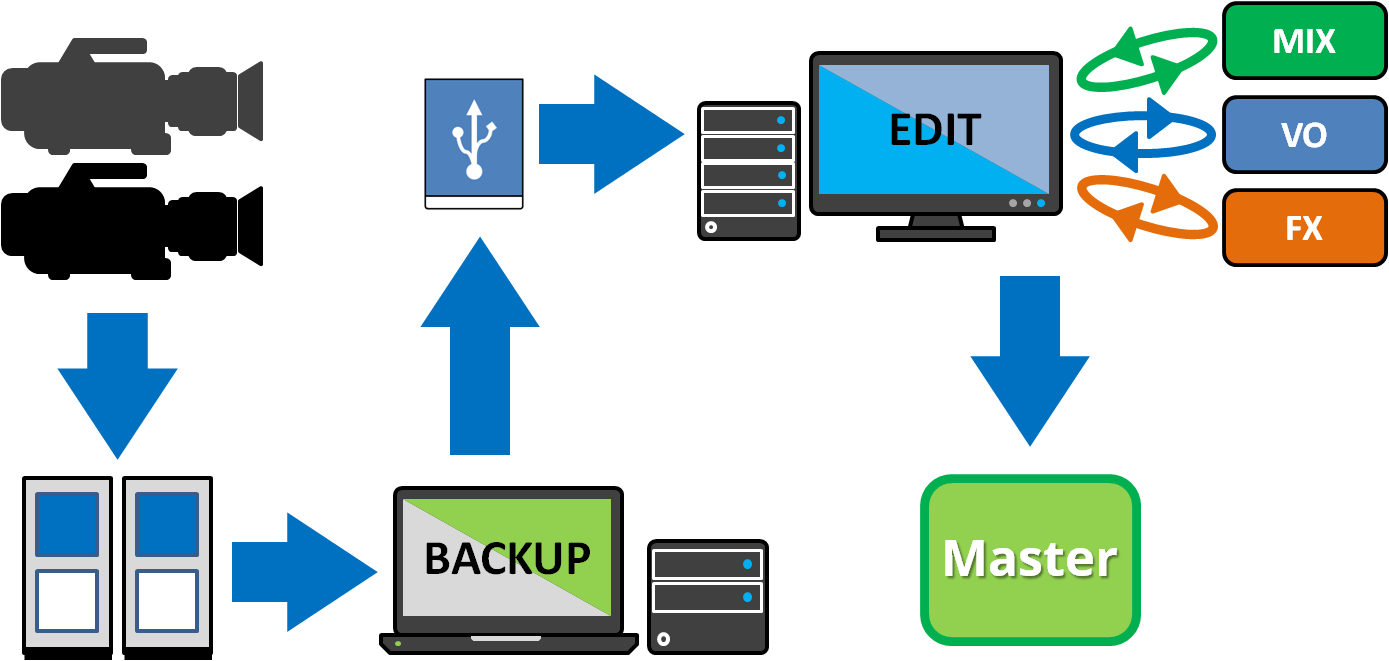 Native footage's image quality (shown as blue arrows) is maintained throughout the entire process.
The Editing Workstation
When working with native media, the projects editing workstation may need to function as much as an Online suite as an Offline edit suite. This means you should play close attention to having the following configuration and capabilities:-
Good specification workstation (32GB RAM , Multi CPU plus multi Cores, and high quality GFX Card.)
A Video I/O card to supply broadcast monitor with high quality signal (HD-SDI for example.)
Broadcast Quality monitor (colour calibrated.)
High quality audio speakers (and headphones.)
High performance video storage to work with the editing codec.
External Videos cope for ensuring 'legal' video images.
High quality audio monitoring such as PPM (Peak Program Meters) and / or Loudness Monitoring Plugin .
These are specialist pieces of equipment and therefore can be costly to purchase and may need specialists to set up. It is worth noting that some of this can be hired for the duration of the online, if required.
INFO: While we will not be looking at the Online process in detail in this course, we will be referencing the process regularly.

Typical Avid set up used for Online editing.
Complete and Continue