What makes a suite?
There are a number of things that go to make up and edit suite, some of them obvious such as the actual equipment itself, but a few are less obvious yet stare you in the face.
The Room
You may be very lucky and be working in a post facility in which case the room will already be set up, but that doesn't mean you should take it for grated it will meet your needs. If you can go and check it out and make some observations.
Does the room have a window in it? If so does it have a blind for controlling the light?
How is the room laid out? Is it set for a right handed editor or left handed? Do you need to move it about a little?
How many chairs does it have? Does it have a viewing couch?
These might sound trivial but they are more important than you can imagine and will save you having to suites later down the track and loose you valuable time.
If you are going to have your own edit suite to work on then go and check out, there might be a good chance that your suite will not be a plush as that of the editors, but it still needs the essentials.

Essential kit is Monitors, Speakers, Workstation and Storage.
HINT: If you are working at a facility for the first time make sure you introduce yourself and get to know what the facility offers and who are the key people to ask for technical support and also how do you get out of hours access to the building if you are sharing a suite with the editor to allow you to ingest.
For the majority of Assistants starting out, especially if you are helping out for free to help flesh out your CV, the room may well be a little out of your control. Some edits have to live on the road and follow the production from place to place. In these cases you may well be working in an office or hotel room, make the most of what you have, ensure you can close curtains and blinds and if needs be, move the desk to get the best position with regards to the lighting. Use lamps to help control the lighting too.
The Desk
Make sure you have enough desk space! If you have a traditional setup of 2 monitors and some speakers then you'll need a desk that is at least 1.5m wide by 700mm deep. If you need to have a couple of people sat at the desk, make sure there's enough space for them to both sit at and not get in each other's way too much. The desk will become full of sticky notes and scripts, so try and keep it organised.
I like to keep my desk top as clear of things as possible, so my workstation goes down on the floor. Make sure it's not around too close for you to kick it, and if you have producers or directors sitting alongside you they too can't kick it by accident either. Snapped USB keys can be a disaster!
Raise the monitors so that they are at eye level, even if it means they're stood on A4 reams of paper (yes I've done that!) If you have enough space try and do the same with the speakers. Plinths are a great way of ensuring everything is at the right height. Check out AV desk makers such as AKA Design for ideas and inspiration.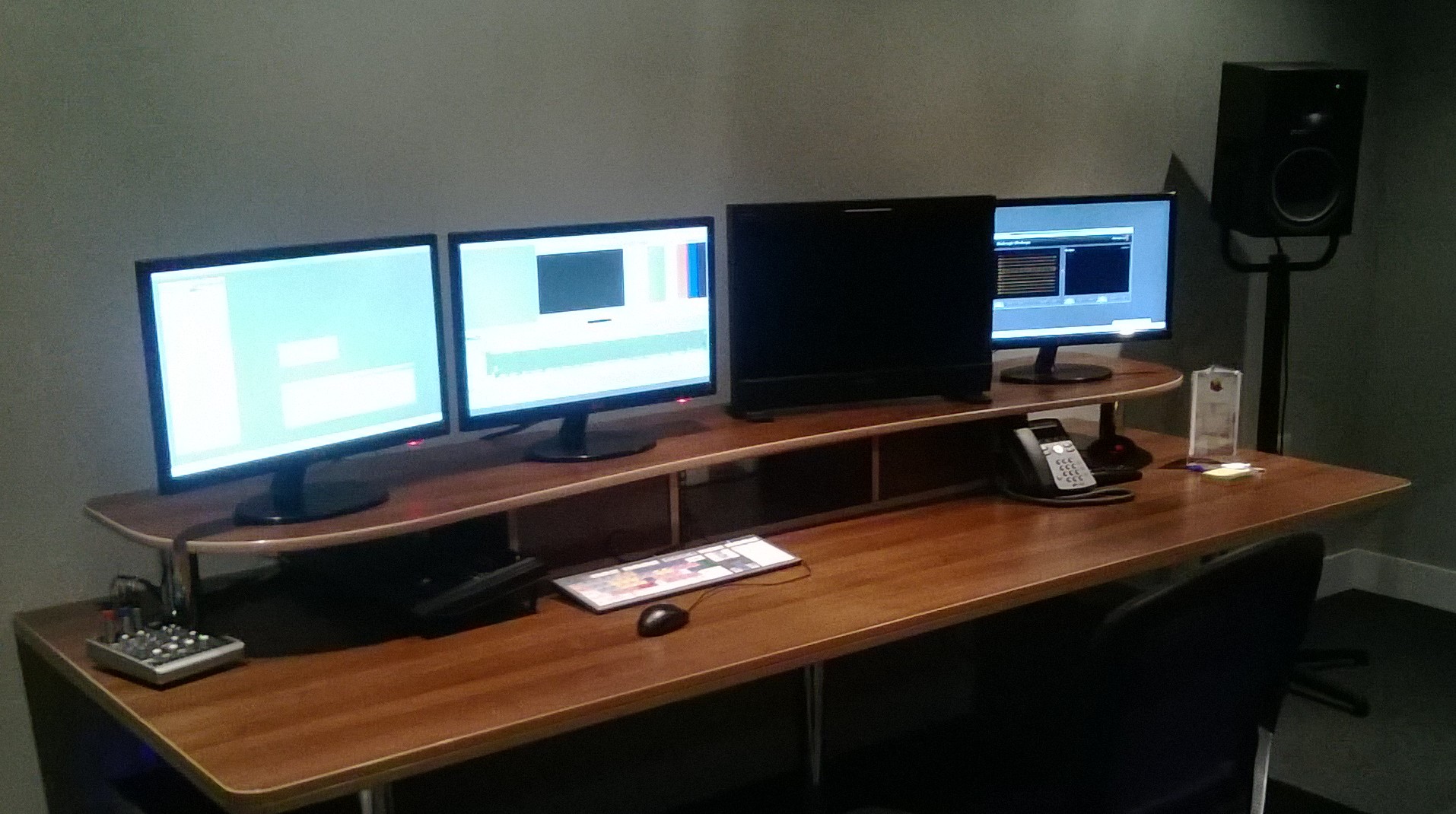 The Chair
We can't stress enough to you to make sure you have a good chair that can let you sit for hours while editing. Even if you have a fancy desk that can be raised so you can edit standing up. Make sure you marry the chair to the height of the desk by raising or lowering the chair seat so that you feet are flat on the floor and your knees are at about 90 degrees. Adjust the back support so that your lower and upper back are supported.
Make sure you also have regular breaks, standing up and walk about for a few minutes, go put the kettle on for some creative inspiration. When editing also try and change your focal point from the monitor every now and then as this can fatigue the eyes too!
Power
Make sure you have enough power. This means checking the number of wall sockets and the number of mains strips you have. Make sure you have more than enough strips. If you are working from hotel rooms there's a good chance you'll be sharing with the camera crew who have a high need for power too!
HINT: Try and use power surge strips to help reduce the risk of mains 'spikes.' Some strips also have USB power outlets which are great for charging phones and power banks. Ensure the lead on the strip is also a decent length too.
If you are lucky enough to be working abroad, check the countries power (115 volts or 240 volts?) can be used with your equipment. Check if you need adaptors too! Some countries also have unreliable power and can suffer from power outages regularly. This is where laptops are worth their weight in gold!